Please check in advance reporting points and arrival routes. See also video animations (3) and IAIP (link below) on how to fly to Texel International Airport during the Fly-In. Check latest NOTAM's, follow the instructions by Texel Radio on 119.300 and marshallers (if applicable or available) when parking.
Have a safe flight!
10th Texel Fly-In 2018. Please read the content carefully.
Flying procedures
During the fly-in (also on Friday!) the Texel Airport weekend procedures are active.
Due to the high number of expected visitors the procedures are as follows:
Runway 22L: all traffic via reporting point A, outside the coast to point E for a straight in.
Runway 04R: all traffic via reporting points A and B for a direct right hand base leg.
Runway 31/13 : normal circuit at 1.000 ft.

The supplement (2018) for weekend procedures can be downloaded via:
http://www.texelflyin.nl/wp-content/uploads/2017/07/EH-AD-2.EHTX_.pdf
We kindly request all pilots to maintain a minimum altitude of 1.500 feet over the island and to avoid wildlife reserves, bird sanctuaries and populated areas as much as possible. Local flights are limited due to the expected volume of flights to and from the island. Please check with the traffic controllers at Texel tower for permission of local flights.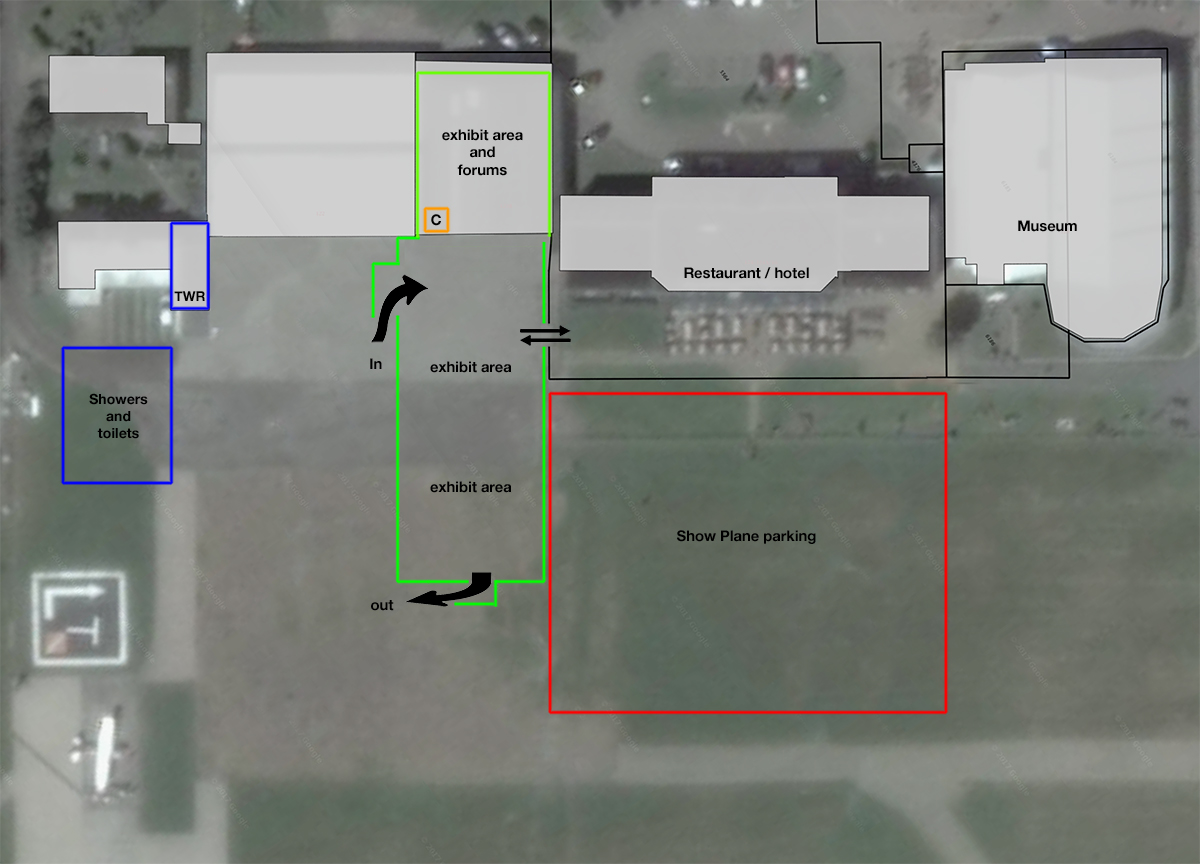 Help us parking your aircraft and show the marshaller the printed sign, download the Aircraft Sign 'C'amping (staying overnight) or
Aircraft Sign 'P'arking (for day visitors)
Download Aircraft Signs:
– http://www.texelflyin.nl/Camping-Sign.pdf
– http://www.texelflyin.nl/Parking-Sign.pdf
KEY CORD LEASEWEB: Pilots and crew receive a key cord upon arrival. This allows access to the airside of the airfield. The pilot is at all times responsible for the safety of his passengers and crew.
Opening times
The airfield operating hours are on Friday and Saturday from 09.00 – 19.00 hrs local time and on Sunday from 10.00 – 19.00 hrs local time.

Night stop
If you have not booked or have not been able to find a hotel yet we, suggest to contact the Texel Tourist Information Office – VVV (www.texel.net, 0031 222 – 314 741) or have a look at our website (www.texelairport.nl > LINKS). A hotel for one night may be difficult to book, however there is a good chance that you find suitable accommodation on the day of arrival.
The local authorities gave us special permission for camping under your wing or close to your aircraft during the fly-in weekend. Showers and lavatories are situated near the control tower. There is no charge for using showers and lavatories, but we kindly ask you to keep them as clean after use. Thank you!
Camping rules
– Do not leave any waste on the airfield.
– No noise during night hours.
– Be careful in the dark around parked airplanes.
– Smoking and open fire are not allowed.
Mogas at Texel Airport
Texel Airport has Euro 95 available for Rotax powered aircraft available.
Video animations
Visual Approach Chart (6 FEB 2014)
Aerodrome Chart (7 JAN 2016)
Weekend procedures (AIP SUP 03/2014)
Weekend + Circuit Chart (Texel version)
POINT A: 53º03.10'N 004º54.20'E
POINT B: 53º04.40'N 004º50.60'E
POINT C: 53º03.20'N 004º45.30'E
POINT D: 53º07.50'N 004º54.20'E
POINT E: 53º09.90'N 004º53.50'E
For the latest information, please visit the official Aernautical Information Services website:  www.ais-netherlands.nl/aim/index.html
ARP co-ordinates and site at AD: 53°06'55″N 004°50'01″E
Radial and distance HDR VOR: RAD 013 DME 12.8NM
Elevation/reference temperature: +2 ft AMSL/19.5°C
MAG VAR/annual change: 0°E(2010)/8'E
Remarks: Aerodrome available for national and international civil air traffic with all types of aircraft up to 6000 kg AUW and gliders. Aerodrome authority can admit aircraft with higher AUW.
Customs:
Available during operational hours. 
Schengen countries: Netherlands, Germany, Belgium, Luxembourg, France, Spain, Portugal, Austria, Italy, Greece, Norway, Denmark, Sweden, Finland, Iceland, Estonia, Hungary, Latvia, Lithuania, Malta, Poland, Slovenia, Czech Republic, Slovakia, Switzerland.
NON Schengen countries: Please send the following information 12 hrs before arrival:
– Type of aircraft
– Registration of aircraft
– Airport of departure
– ETA
– Date of birth and nationality persons on board
Texel Radio Frequentie: 119.300 MHz
Link to Texel Aiport: www.texelairport.nl